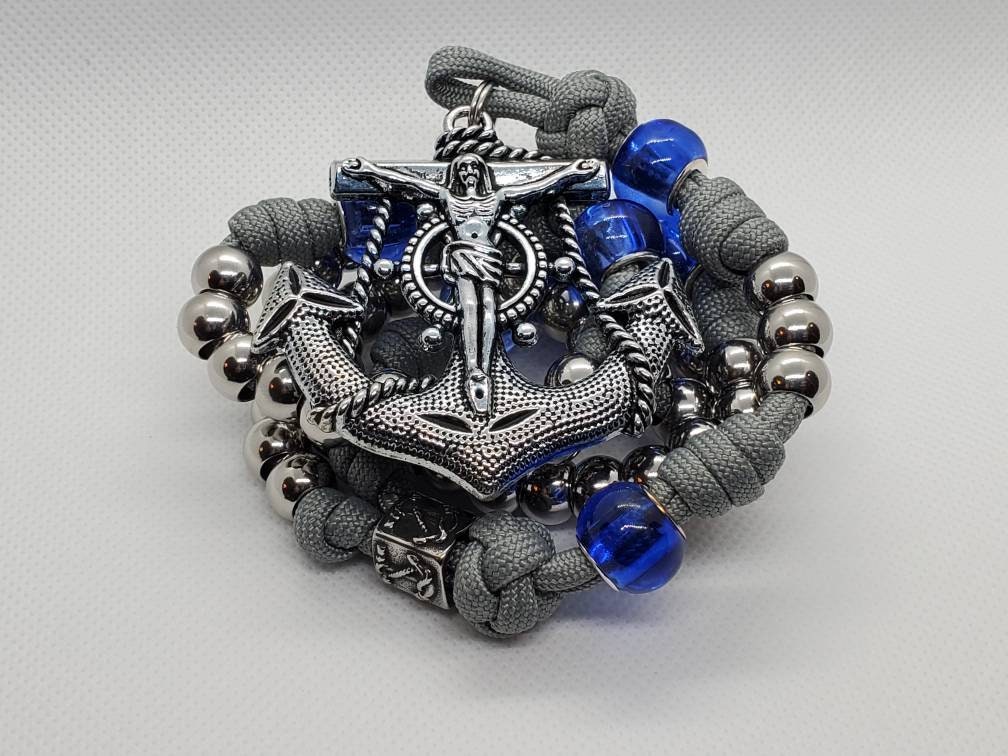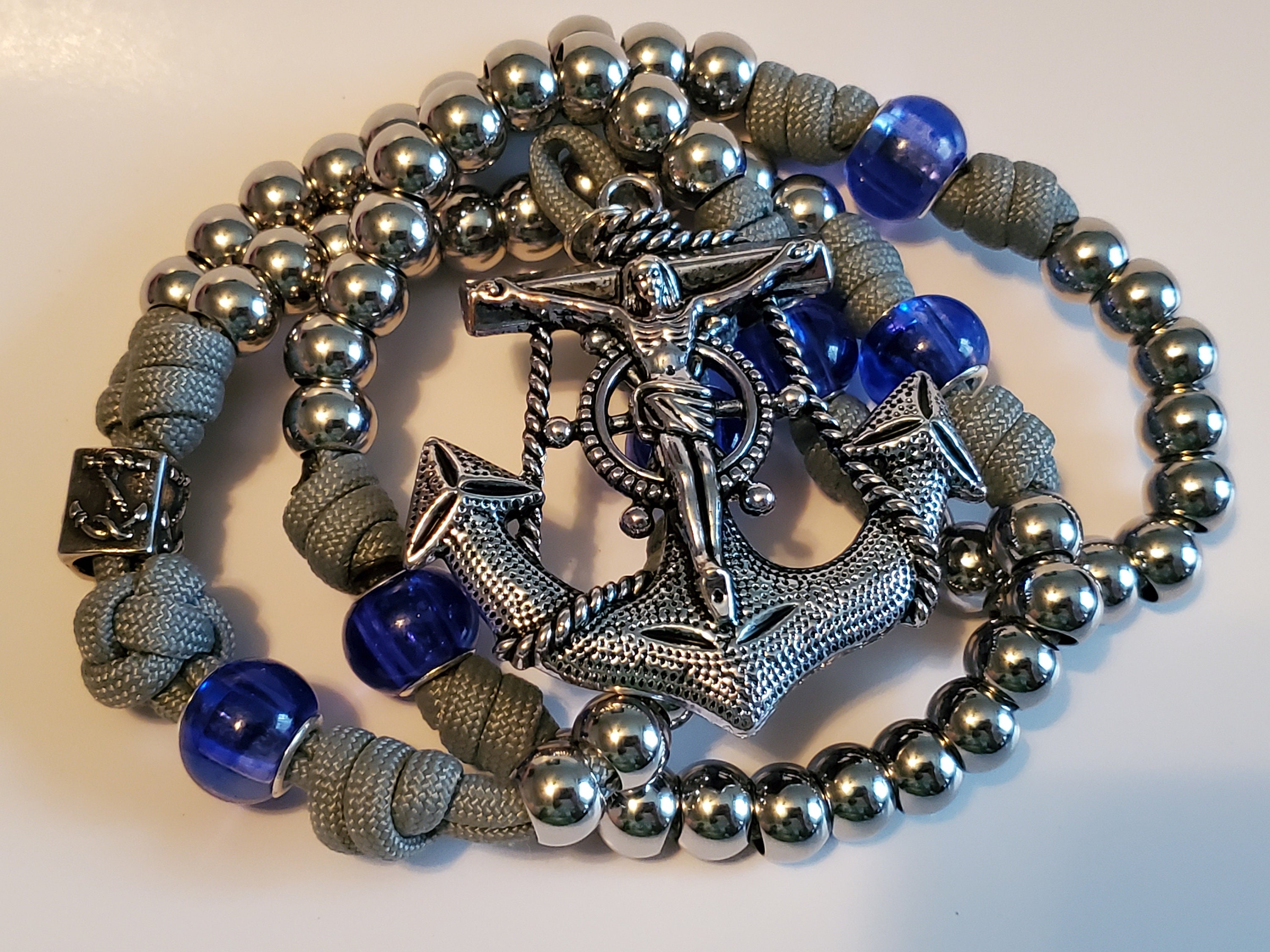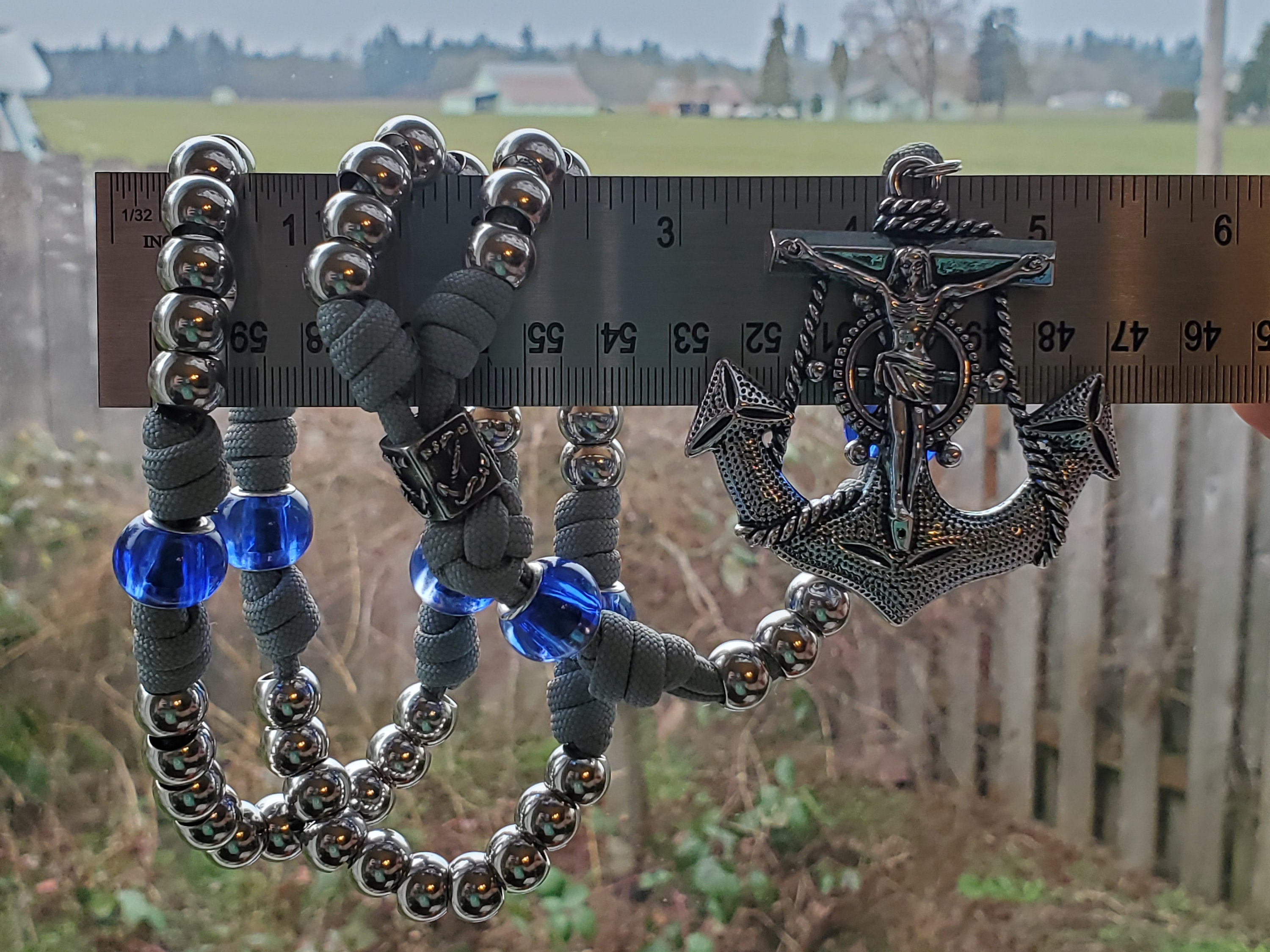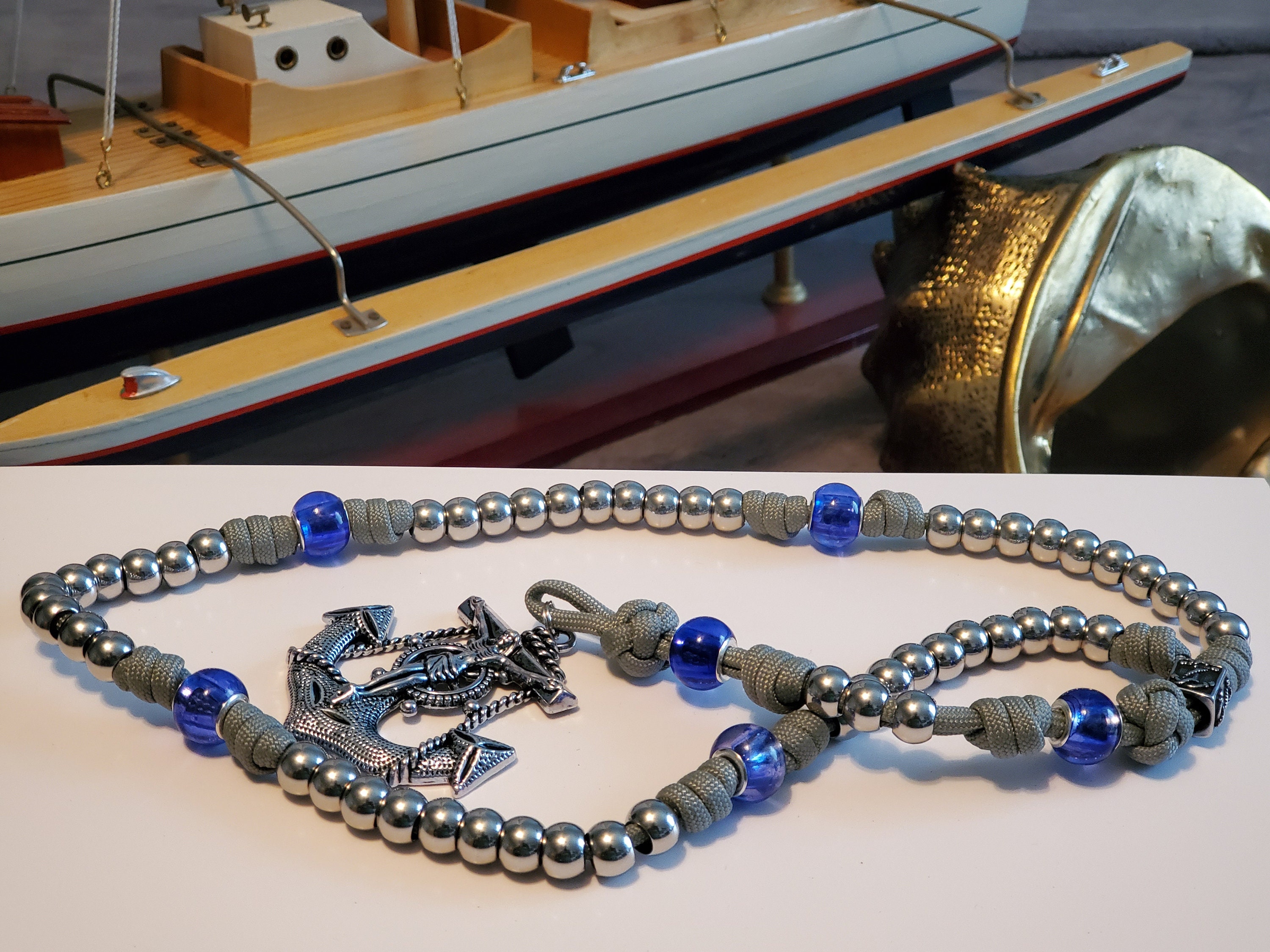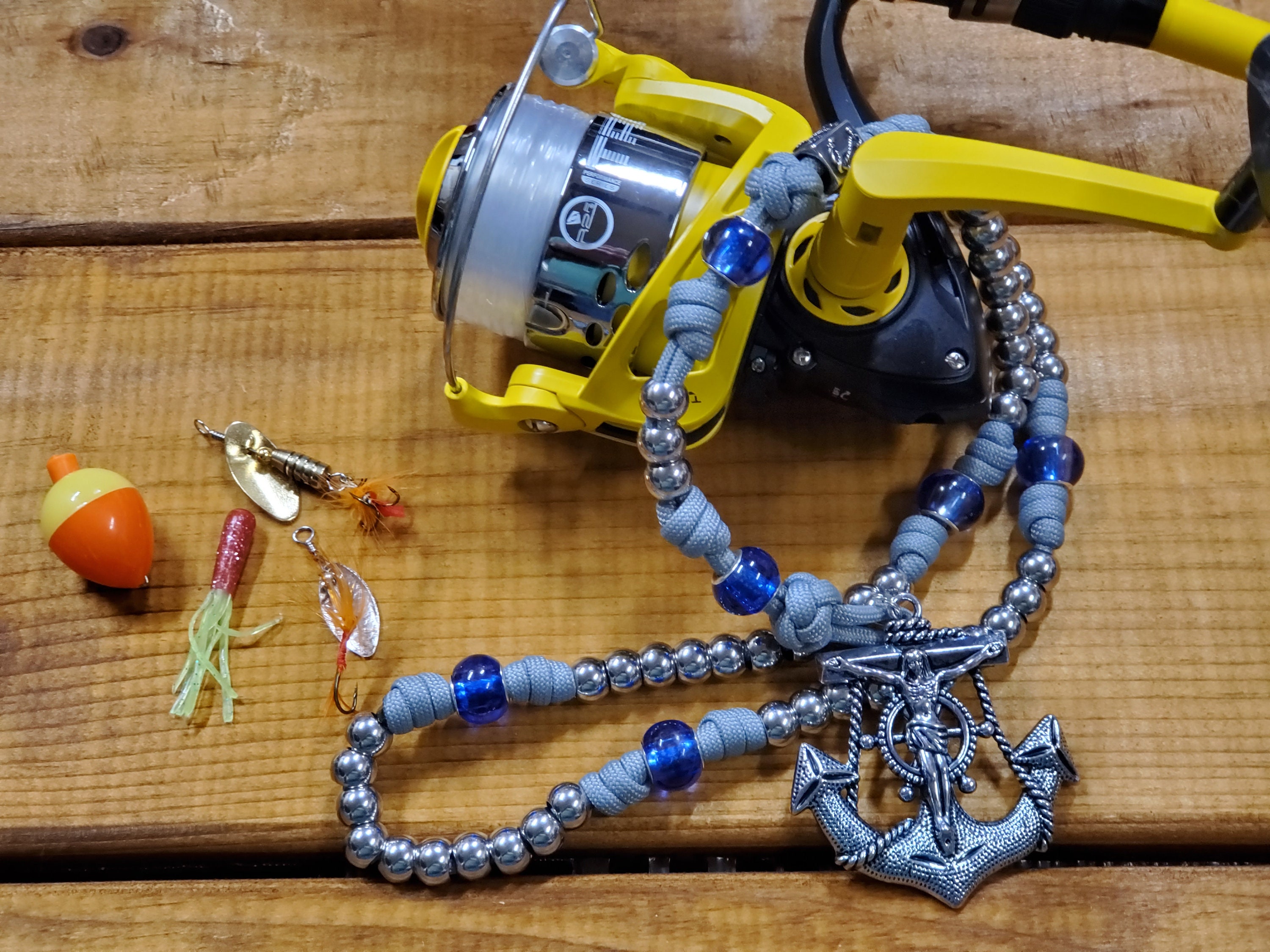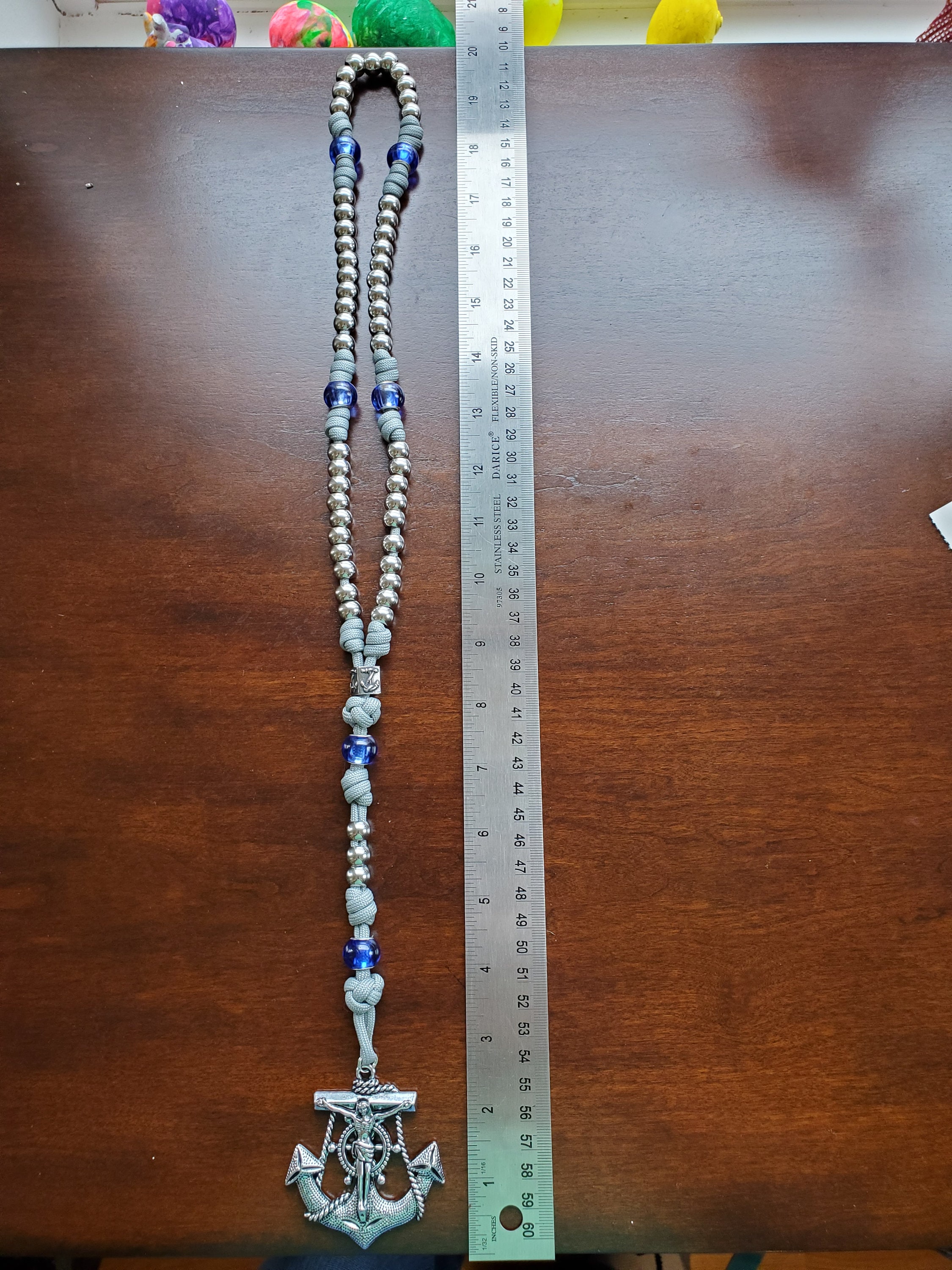 The Virtue of Hope Rosary (Mariner) is made with an anchor crucifix and an anchor centerpiece bead. The Hail Mary beads are stainless steel, and the Our Father beads are blue glass to match the nautical theme emulating glass fishing floats. The 550 paracord is I credibly strong making this rosary very durable.

According to the Theology of the Catholic Church the theological virtue of hope (spes) is not an act of the intellect like the theological virtue of faith to believe in God, but an act of our will. Hope gives us the confidence to know with certainty that we can obtain the promises of Jesus Christ to receive the kingdom of heaven through our perseverance in the faith. The Christian's hope is often symbolized by an anchor as it is in scripture.

"So when God wanted to give the heirs of his promise an even clearer demonstration of the immutability of his purpose, he intervened with an oath, so that by two immutable things, in which it was impossible for God to lie, we who have taken refuge might be strongly encouraged to hold fast to the hope that lies before us. This we have as an anchor of the soul, sure and firm, which reaches into the interior behind the veil, where Jesus has entered on our behalf as forerunner, becoming high priest forever according to the order of Melchizedek."
- Hebrews 6:17-20

Pope Benedict XVI titled his second Encyclical letter "Spe Salvi" the full phrase – Spe Salvi facti sumus – means: "in hope we were saved." Pope Francis has said, "Prayer opens the door of hope."

St. Thomas Aquinas defines hope like this:
"Now the act of hope, whereof we speak now, attains God. For, as we have already stated (I-II:40:1), when we were treating of the passion of hope, the object of hope is a future good, difficult but possible to obtain. Now a thing is possible to us in two ways: first, by ourselves; secondly, by means of others, as stated in Ethic. iii. Wherefore, in so far as we hope for anything as being possible to us by means of the Divine assistance, our hope attains God Himself, on Whose help it leans. It is therefore evident that hope is a virtue, since it causes a human act to be good and to attain its due rule."
- Summa Theologica Question 17 Article I


The theological virtues, faith and hope and charity (love), are gifts. The gift of hope in God is not a moral virtue. We only receive these gifts from God. So, if we want to grow in hope we do so through prayer not our own efforts to cultivate the virtue. Faith, hope and charity grow in us through the Holy Spirit and not our personal merit.

We can as for our hope to increase by praying an act of Hope:

O Lord God,
I hope by your grace for the pardon
of all my sins
and after life here to gain eternal happiness
because you have promised it
who are infinitely powerful, faithful, kind,
and merciful.
In this hope I intend to live and die.
Amen.

Praying the rosary for the intention of increasing the virtue of hope is also a great method for growing this gift from the omnipotence of God in your life.

"Hope has two beautiful daughters. Their names are anger and courage; anger at the way things are, and courage to see that they do not remain the way they are." – St. Augustine

The recipe to hope is prayer. Daily rosary with your brothers and sisters in Christ in heaven calling on the intercession of saints like St. Joseph & St. John Paul II. To unite our Hail Marys in a chain of hope uniting our Catholic Community through the intercession of the Blessed Virgin Mary the Immaculate Conception. The Holy rosary is a means to acquire divine mercy. Recitation of the rosary regularly will change yourself and the world. Try a rosary walk to combine physical and spiritual health.

Through fear of the lord hope leads to eternal life. A well lived moral life through the virtues hope, faith and charity bring you the gifts of the Holy Spirit and help to cultivate the cardinal virtues. The hope of salvation, through the grace of God, will be yours through prayer. The kingdom of God is at hand. Trust in God and let hope, directing you to eternal life, bring you to the glory of heaven.

*Social distancing employment opportunities should be direct to the diocese of la crosse.
Shipping from United States
Processing time
3-5 business days
Estimated shipping times
North America : 5 - 7 business days
I'll do my best to meet these shipping estimates, but can't guarantee them. Actual delivery time will depend on the shipping method you choose.
Customs and import taxes
Buyers are responsible for any customs and import taxes that may apply. I'm not responsible for delays due to customs.
Returns & Exchanges
I don't accept returns, exchanges, or cancellations
But please contact me if you have any problems with your order.
This is a durable and stunning rosary. It exceeded all of my expectations.
Very nice gift for my friend, thank you!
Thank you Jethro! I received the rosary today! It's fantastic! Excellent strong quality like my last purchase! I highly recommend!