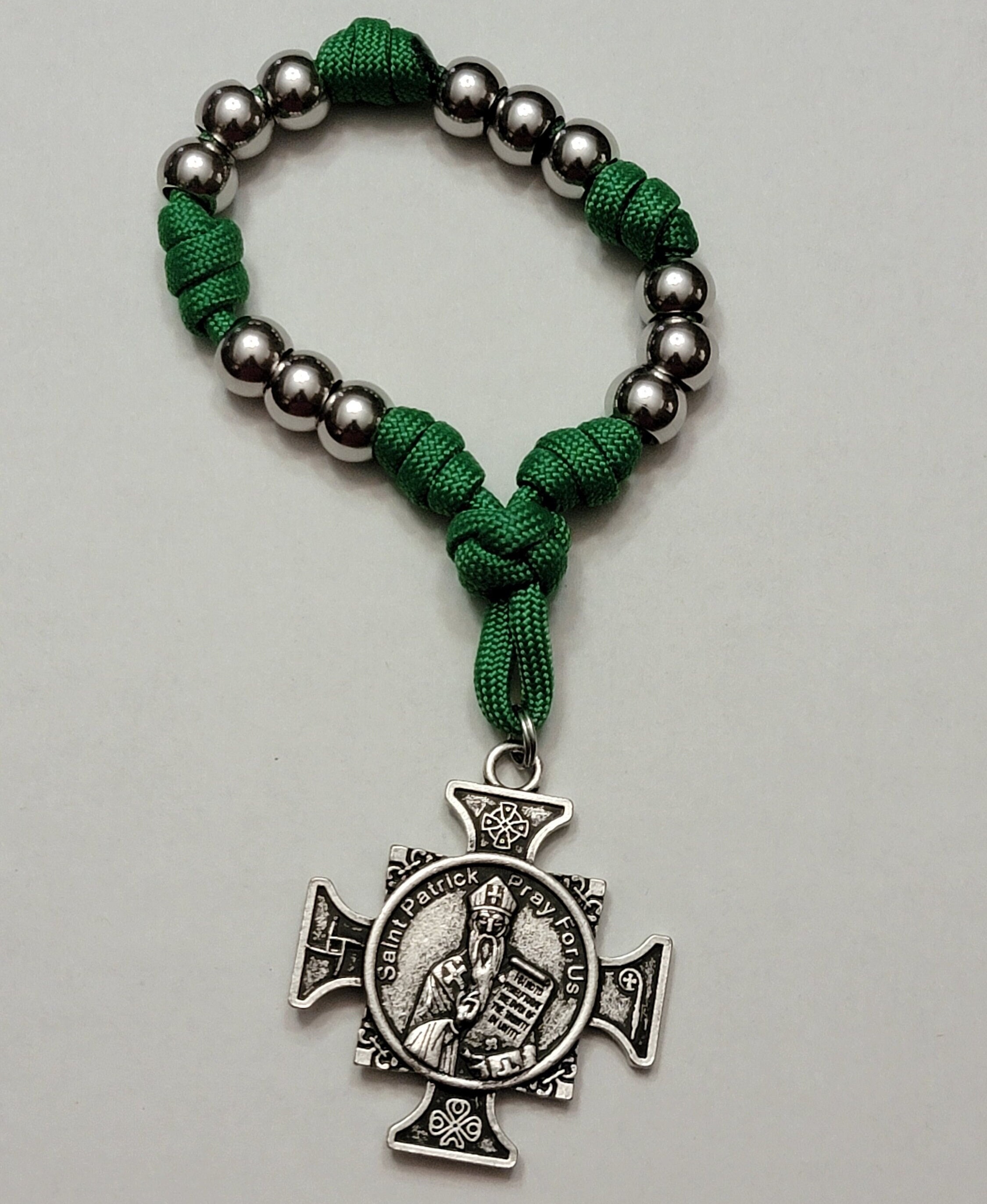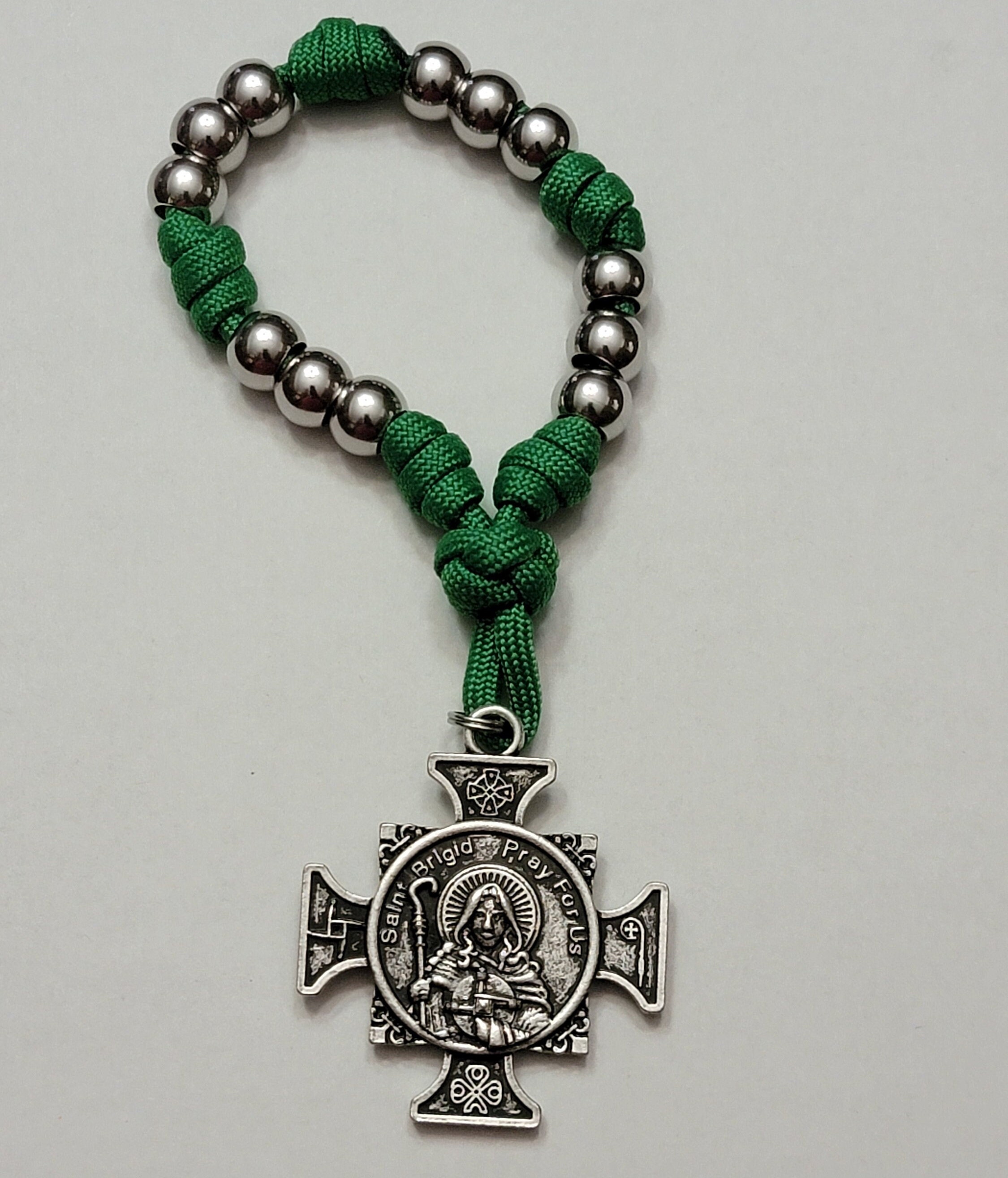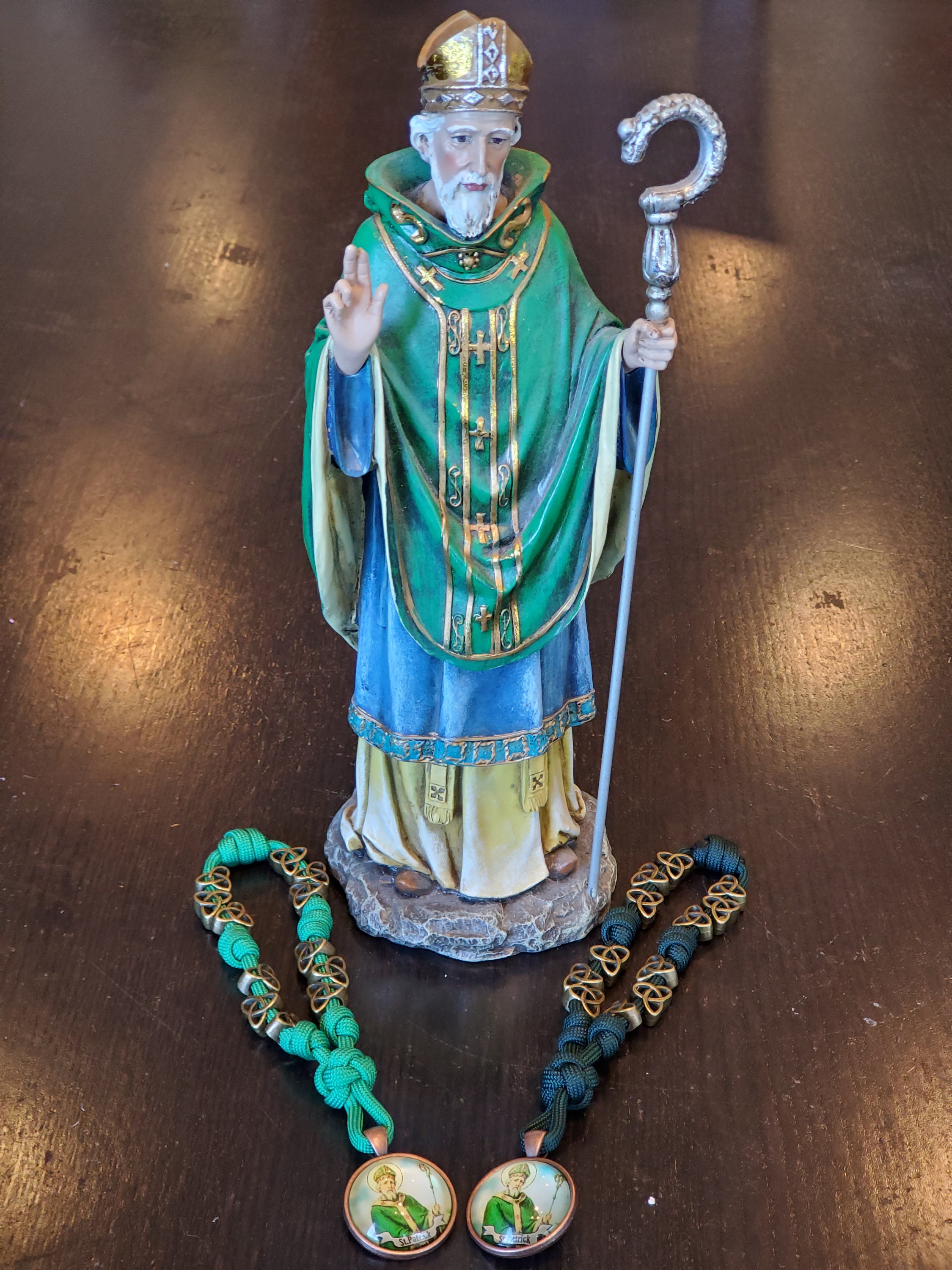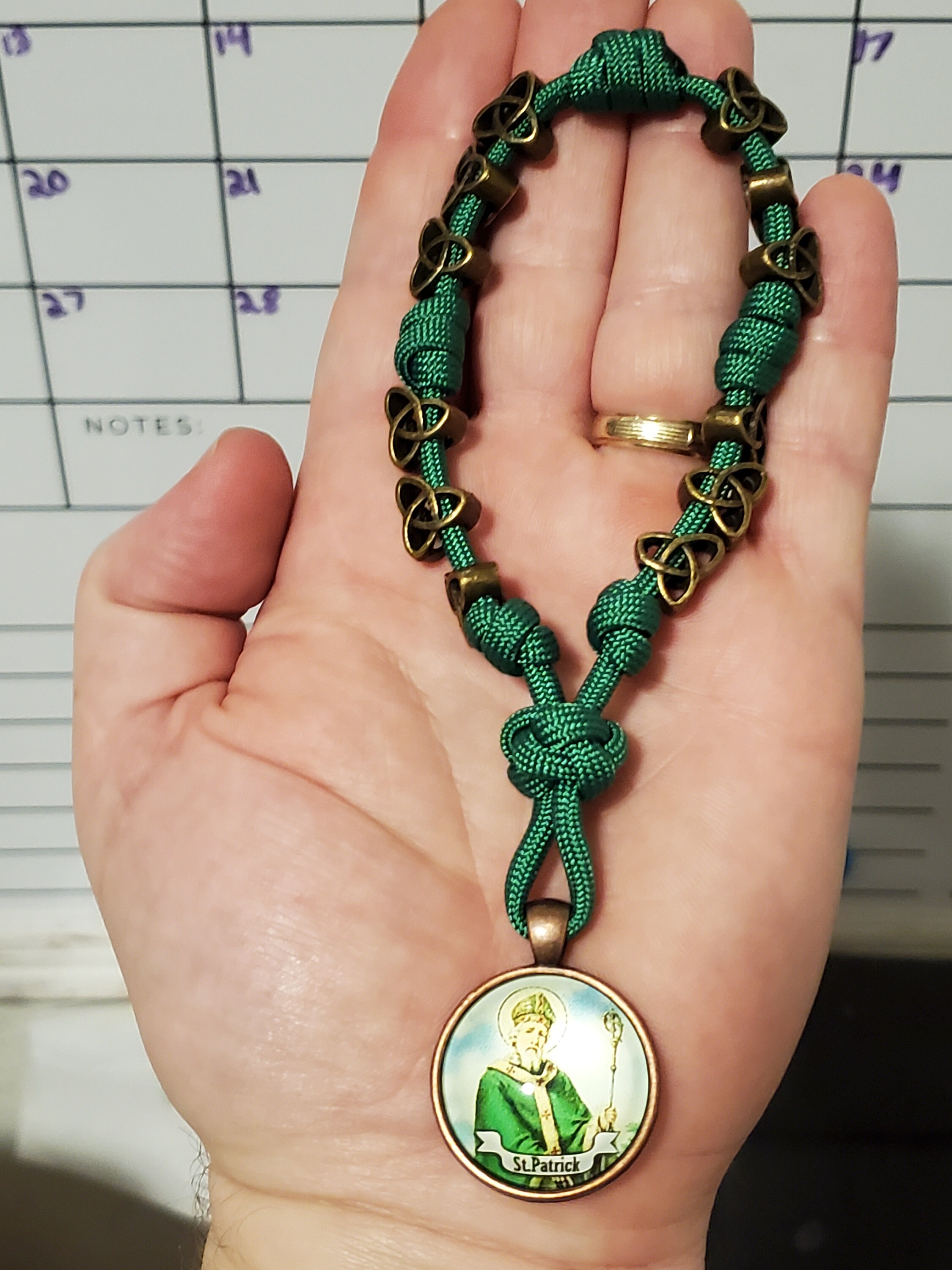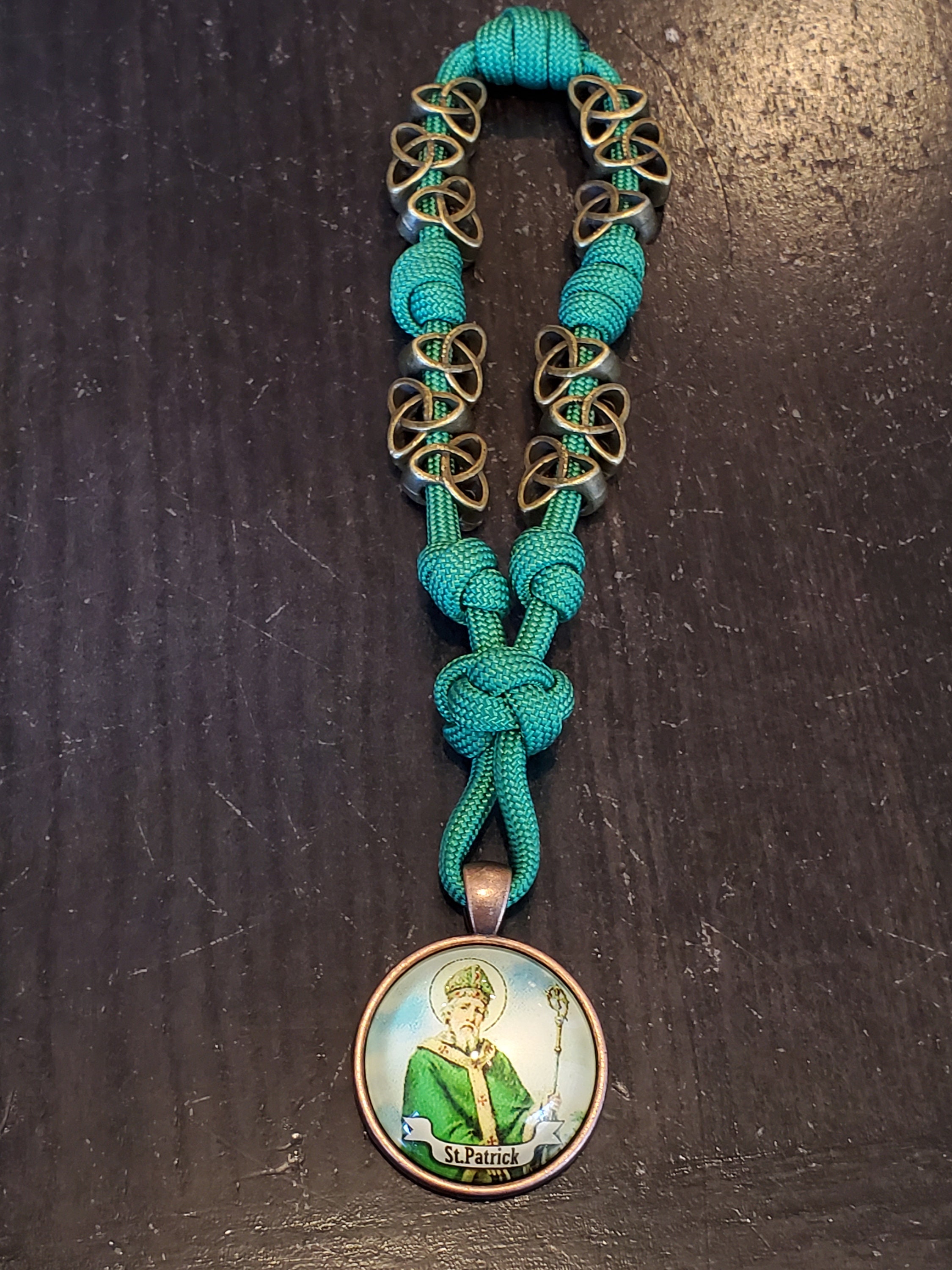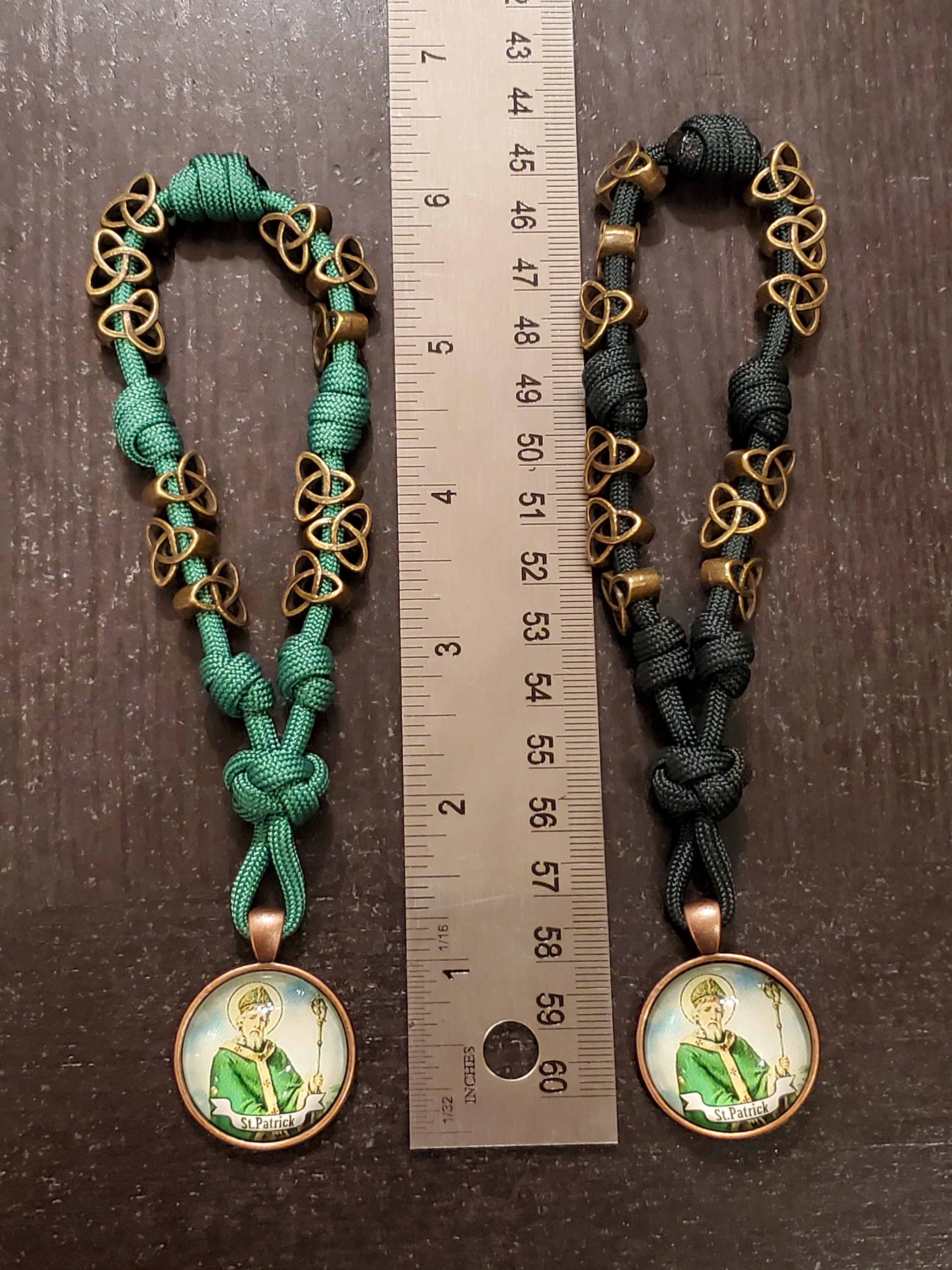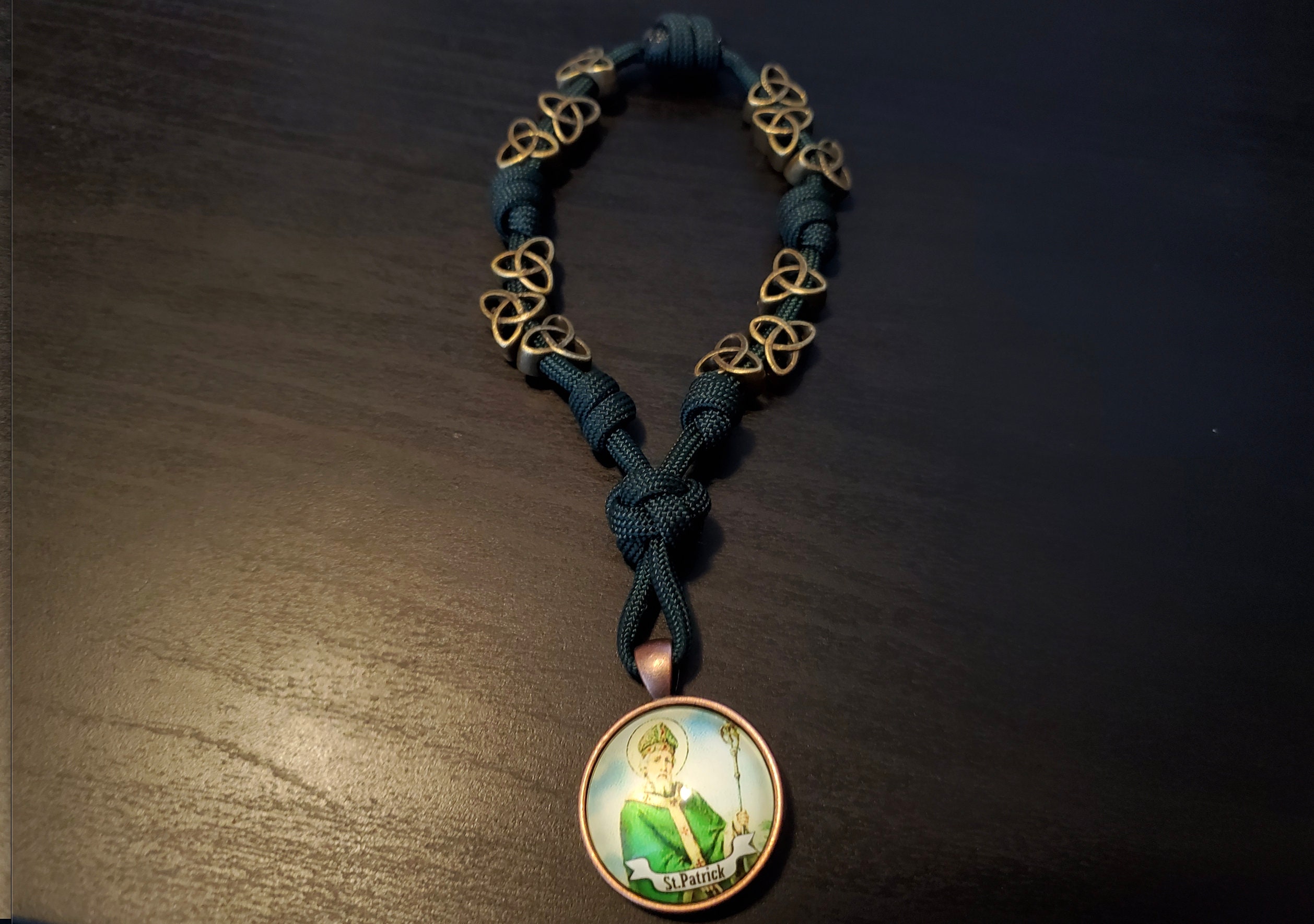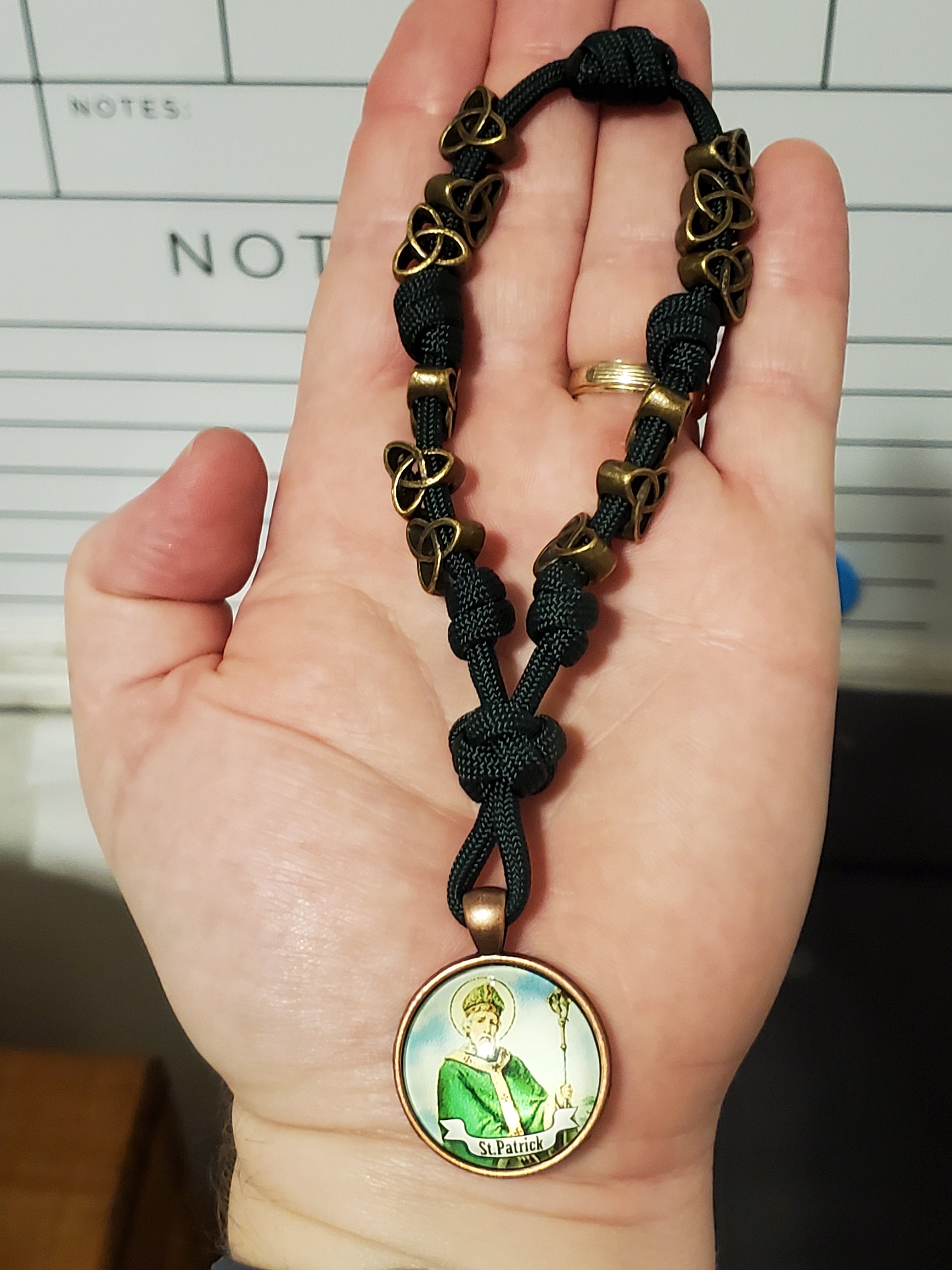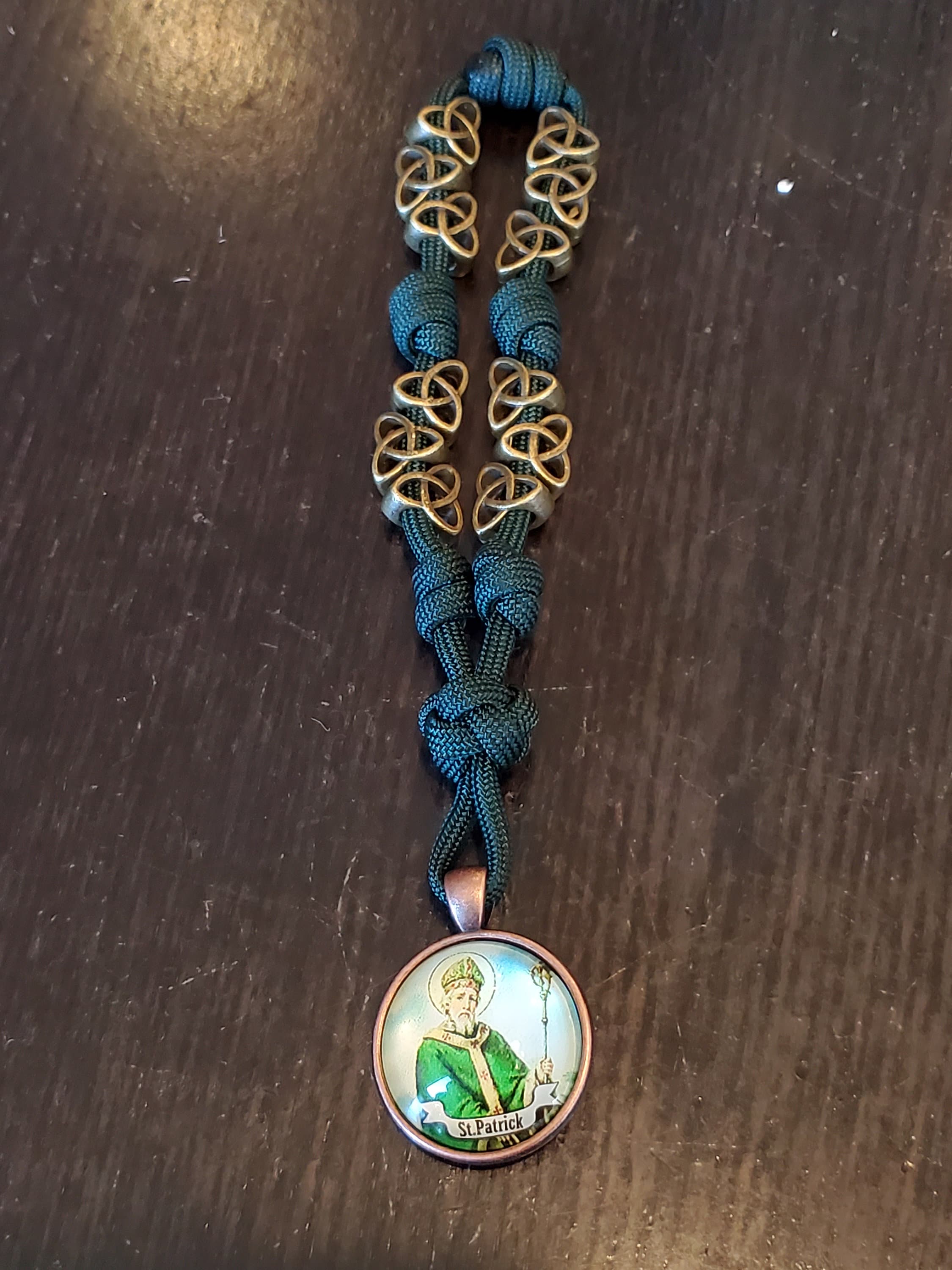 This St. Patrick chaplet is made with a St. Patrick medal finished with glass, beads shaped like trinity knots out of bronze and 550 military grade green paracord. The Saint Patrick chaplet helps to direct our prayer to the triune God; Father, Son and Holy Spirit. St. Patrick is a beloved patron saint whose feast day's in March on the 17th. He is often honored in conjunction with St. Bridget (St. Brigid) on a double sided medal.

Patrick is one of the more commonly known male saints in the company of St. Cristopher, St. Jude, St. Joseph, St. George, St. Michael the Archangel, St. Gerard, St. Benedict, St. Francis, Padre Pio & St. Anthony. You can find chaplets for many of these saints in our shop at www.thesocialcatholic.com along with other religious gifts and holy cards such as chaplets honoring the Sacred Heart, Divine Mercy and guardian angels, holy water fonts and other religious devotional items like statues. We also sell rosaries honoring the Blessed Virgin Mary through the mysteries of the rosary. These devotional chaplets are usually about the size of single decade rosaries or a pocket rosary. Prayer chaplets are an excellent way to develop a devotion to a saint. Chaplets of saints often include common prayers like the Apostles Creed, the Our Father, the Hail Mary and the Glory Be.

The Chaplet of Saint Patrick begins with the Apostles Creed and repeats the Glory Be 12 times.

How do you pray the Chaplet of St. Patrick?

Begin with the Sign of the cross

Then prayer on the medal pray the Apostle's Creed

On each bead say a Glory Be follow by:
Through the intercession of St. Patrick, may God Almighty strengthen my faith, and grant the grace of faith for others. Amen.



What is the difference between a chaplet and a rosary?
A chaplet is any beaded prayer where as a rosary is a specific chaplet that is why you often may encounter the phrase "rosary chaplet".

Is St. Patrick the Patron Saint of Ireland?
Yes, in fact other St. Patrick devotions like litanies and novenas are often written from the voice of the Irish people.

Does St. Patrick have a prayer?
Yes, the prayer of St. Patrick is called "The Breastplate of St. Patrick and it is as follows.

Short form:
Christ as a light, Illumine and guide me! Christ as a shield, overshadow and cover me! Christ be under me! Christ be over me! Christ be beside me, on the left hand and right! Christ be before me, behind me, about me; Christ this day, be within and without me!

Long form:
I arise today
Through a mighty strength, the invocation of the Trinity,
Through belief in the Threeness,
Through confession of the Oneness
of the Creator of creation.
I arise today
Through the strength of Christ's birth with His baptism,
Through the strength of His crucifixion with His burial,
Through the strength of His resurrection with His ascension,
Through the strength of His descent for the judgment of doom.
I arise today
Through the strength of the love of cherubim,
In the obedience of angels,
In the service of archangels,
In the hope of resurrection to meet with reward,
In the prayers of patriarchs,
In the predictions of prophets,
In the preaching of apostles,
In the faith of confessors,
In the innocence of holy virgins,
In the deeds of righteous men.
I arise today, through
The strength of heaven,
The light of the sun,
The radiance of the moon,
The splendor of fire,
The speed of lightning,
The swiftness of wind,
The depth of the sea,
The stability of the earth,
The firmness of rock.
I arise today, through
God's strength to pilot me,
God's might to uphold me,
God's wisdom to guide me,
God's eye to look before me,
God's ear to hear me,
God's word to speak for me,
God's hand to guard me,
God's shield to protect me,
God's host to save me
From snares of devils,
From temptation of vices,
From everyone who shall wish me ill,
afar and near.
I summon today
All these powers between me and those evils,
Against every cruel and merciless power
that may oppose my body and soul,
Against incantations of false prophets,
Against black laws of pagandom,
Against false laws of heretics,
Against craft of idolatry,
Against spells of witches and smiths and wizards,
Against every knowledge that corrupts man's body and soul;
Christ to shield me today
Against poison, against burning,
Against drowning, against wounding,
So that there may come to me an abundance of reward.
Christ with me,
Christ before me,
Christ behind me,
Christ in me,
Christ beneath me,
Christ above me,
Christ on my right,
Christ on my left,
Christ when I lie down,
Christ when I sit down,
Christ when I arise,
Christ in the heart of every man who thinks of me,
Christ in the mouth of everyone who speaks of me,
Christ in every eye that sees me,
Christ in every ear that hears me.

Amen.


Let us know in our contact us form at www.thesocialcatholic.com or on our Facebook page if you have interest in an Irish rosary (Pray the rosary!).
Shipping from United States
Processing time
3-5 business days
Estimated shipping times
North America : 5 - 7 business days
I'll do my best to meet these shipping estimates, but can't guarantee them. Actual delivery time will depend on the shipping method you choose.
Customs and import taxes
Buyers are responsible for any customs and import taxes that may apply. I'm not responsible for delays due to customs.
Returns & Exchanges
I don't accept returns, exchanges, or cancellations
But please contact me if you have any problems with your order.
nice detail. love it. wear it everyday now
Exactly what I was looking for.